Disclaimer: As an Amazon Associate, we earn from qualifying purchases.
What Do Buddhist Nuns Wear?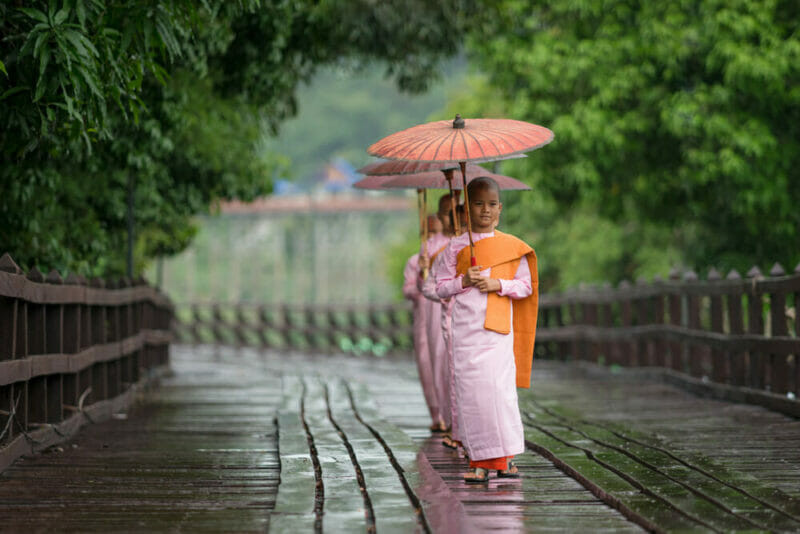 Buddhists nuns around the world wear and follow different rules about what they can wear, with many regions having their own unique set of practices.
This blog post explains what Buddhist nuns wear in different parts of Asia. The article contains pictures and is relevant to anyone with an interest in the different types of nun clothes practiced in Buddhism.
Buddhist nuns wear what most people would consider traditional Buddhist robes. These sorts of garments are typically solid colors- such as maroon, light pink, white, yellow etc. White or light pink robes are worn by Theravada nuns. On the other hand, maroon is the traditional robe worn by monks and nuns alike in Bhutan and Nepal. 
Buddhist Nun Clothes (with Photos and Video)
Buddhism has established a set of dress codes for monks and nuns. In selecting Buddhist nun clothing, a number of factors are taken into consideration, such as source of the garment, the materials used to weave it, the color, the length, the width, and the height. The main reason for adhering to this dress code is to feel disciplined. 
This information about the dress code is contained in two volumes of the Vinaya Pitaka (namely The Mahavagga and The Cullavagga). The Vinaya Piṭaka is one of the three parts of the Tripiṭaka.
Buddhist monks usually wear loose clothing, such as robes, so they can meditate and focus better on various Buddhist rituals. The garment worn by Buddhist monks or nuns who belong to the Theravada branch is called 'chivara'. 
A chivara essentially consists of three parts: sanghati, uttharasangha, and antharavasaka. As there are three parts, they are commonly known as 'thecheevara'. The dress worn by a nun is not very different from that worn by a monk.
In countries with warmer climates, little change can be observed. There are nuns in these areas who can be seen using long sleeves that cover their entire upper bodies. Some nuns wear these clothes, but not all. On the other hand, the nuns in winter-prone countries usually wear long robes.
Listed below are illustrations of nun robes from Tibet, China, Japan, Myanmar, Thailand and Sri Lanka: 

| | |
| --- | --- |
| Country | Image |
| Tibet | |
| China | |
| Japan | |
| Myanmar | |
| Thailand | |
| Sri Lanka | |
Image Courtesy: http://www.buddhanet.net/e-learning/buddhistworld/robe_pics.htm
Example of Buddha Nuns' Clothing at the Lotus Monastery
Buddhist nuns wear different robes depending on their sect and cultural background. Buddhist nuns wear robes in order to demonstrate simplicity and detachment. They take an oath of poverty, not to touch money or any other worldly goods.
Buddhist nuns are equipped for modesty as well as warmth. These clothes not only show respect for one's faith and spirituality but they honor other people with whom we interact in society whether it be family, friends or strangers who encounter the nun on the street– or even at home if she comes to visit you. 
Buddhist nuns who prefer not to look like priests still need something recognizable as part-of-the-ordained community to help maintain some sort of organization among a group of people who lead an almost completely solitary life with few other means for creating boundaries.
Parting Words
Buddhist nuns have renounced worldly pleasures and live a life devoted entirely to religious study, contemplation, and meditation.
Some nuns will wear simple robes while others may wear different styles of clothing depending on their culture or tradition. That's the only physical thing that differentiates them from anyone else in society; gender, race, nationality all disappear in this instance at least.
And I think it symbolizes something really important about our journey to enlightenment – that we leave behind everything which traps us in one corner of life instead of freeing ourselves completely and living with an open spirit.