Disclaimer: As an Amazon Associate, we earn from qualifying purchases.
What to Wear to a Buddhist Temple?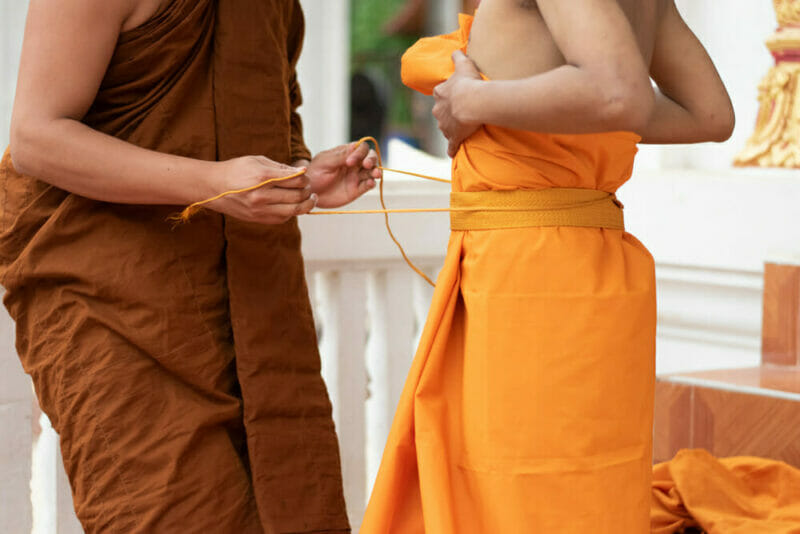 What should I wear to go visit a Buddhist temple? This is an important question for those who are not familiar with the customs and traditions of Buddhism. The purpose of this blog post is to provide a comprehensive answer to the above question.
The sense of peace and tranquility that comes from a Buddhist temple is not just in the air, but also in the clothes you wear. A Buddhist temple is a place of worship and refuge. It's where the Buddha's teachings are shared with others, where people come together to pray and meditate, and to cultivate wisdom.
The people at the temple are some of the kindest, most welcoming I've ever met. But for those who have never been to a Buddhist temple before, it can be difficult to know what's appropriate in terms of attire.  
People visit Buddhist temples for different reasons: meditation, prayer or just looking around. When visiting a temple, it is not absolutely necessary to dress in traditional Buddhist robes. However, there are some things you should keep in mind if you're going to be at a temple for an extended period of time:
a) Wear comfortable clothing that will allow you to move freely without being restrictive or uncomfortable.
b) Dress modestly. Your clothing should not be too flashy or revealing. 
c) Avoid too much jewelry, make-up, perfume or cologne.
d) Dress in clean clothes. 
e) Shoes must be removed before entering a place where people sit down for worship and also no shoes are allowed on the meditation cushions in the sanctuary area. 
Wear clothing that covers your shoulders and knees at the very least. In some temples, clothing can also be rented.
Amazon is also an excellent source for Buddhist/Asian clothing:
However, clothing isn't the only thing to be cautious about. As you approach the temple, take off your shoes and hat.
Several other factors must also be taken into account. Temples are not merely tourist attractions. Tourists are certainly attracted to them, but first and foremost they are religious sites. Therefore, we should refrain from touching items inside the temple or taking selfies with the Buddha.
There are some other special considerations for women who wish to visit temples as well: they must cover their shoulders and legs with long skirts or pants. Men should dress modestly and avoid shorts, sleeveless shirts, tank tops, and hats inside temples. The key is to respect the cultural and traditional practices, while at the same time feeling comfortable and free to enjoy yourself.
For women, this means covered arms, legs and chest. For men, you'll find that they cover their shoulders and upper hands as well. What to wear changes by tradition too – some people dress like monks or nuns, while others just dress like visitors who want to honor the occasion. Long pants and button-downs with no belt or tie would always be a safe bet though. 
To visit a Buddhist temple, it would be helpful to wear clothes that cover most of your skin. The more that is covered the better in general partly because it's believed to minimize distracting thoughts. It's important to remember that Buddhist temples tend to become stricter, since lust is not considered good karma. So dress accordingly.
Dresses Traditional to Buddhism
Buddhist wear can take many forms. Experts in the practice often recommend that you wear something that expresses your commitment to the ideas of Buddhism.
Buddhist monks have a strict dress code that must be followed at all times. They traditionally wear a saffron/maroon/orange robe. Their attire is a reflection of their life of service as well as an expression of the universality and timelessness of the Dharma (Buddhist law).
In terms of what to wear to a Buddhist temple, individual temples may have their own dress codes and that's why a generic answer might not be appropriate here. If this is very important to you, you might also talk with someone from a Buddhist center or monastery near you since the customs and traditions of Buddhism vary greatly from area to area and temple to temple.
Parting Words
Becoming familiar with the appropriate clothing for a holy place is important. The same is true of Buddhist temples. It is prudent to put on decent clothing before entering these sacred places. Wearing the right clothing to a Buddhist temple should be about making sure you are not wearing anything that might offend someone.