Disclaimer: As an Amazon Associate, we earn from qualifying purchases.
Frankincense and Patchouli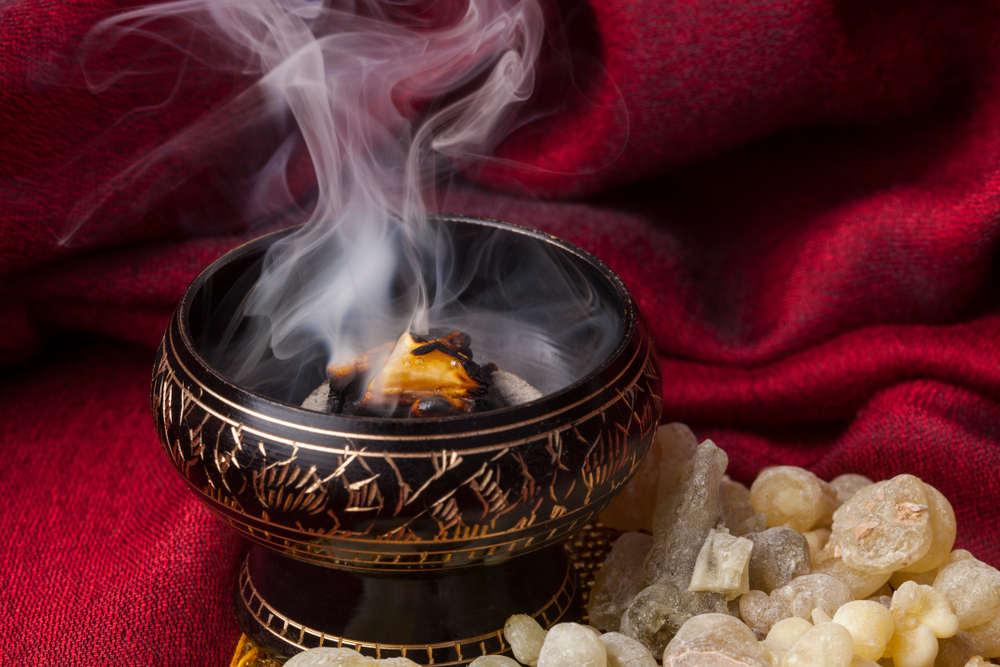 Frankincense and patchouli are two fragrances that possess distinct yet complementary aromas. When blended together, they create a captivating, deep and woody scent that is almost enthralling.

In this blog post, we will explore how these two fragrances can be combined to enhance their individual benefits and create a unique and aromatic experience.
Frankincense is well known as a special fragrance and has been used for many centuries, and is even mentioned in the Christian Bible as being given as a gift by the three Magi at the birth of their Messiah.
Patchouli until the 1960's was less well known but came to prominence when it was adopted by the "Hippie Movement", as Eastern mysticism became popular among the youth of that era.
Combining various aromatic oils together has always been a traditional way of increasing their strengths and benefits, and this is the same with different types of incense.
The combination of Frankincense and Patchouli is an interesting one.
Frankincense is a resin that comes from the bark of a certain tree, whereas Patchouli is made from the dried leaves of a plant. However as aromatic oils extracted from the resin and from the plant leaves they make a good combination.
Both have musky, earthy aromas and blended together in essential oil form they can give a sophisticated sense of well-being, and are popular together like this in aromatherapy.
On its own, frankincense has been described as sweet and uplifting, and stimulating to the mind, and patchouli has more musky sweetness which stimulates the nervous system, lifting depression and giving a feeling of elation.
Together they are a stimulating combination and especially when burned as incense. The incense smoke form these two has been found to release chemicals and antioxidants which actually help to increase serotonin in the brain, which is a natural stress and anxiety reliever.
Many symptoms of depression and anxiety are caused by a lack of serotonin and while modern medicine can prescribe proprietary medication to treat this, it can often be alleviated by more natural organic methods.
As incense, it can either be blended on incense sticks or as a resin – patchouli resin can be obtained from the dried leaves of the patchouli plant and this combination can be burned on charcoal tablets; together they produce a strong aroma that leaves a lasting fragrance in a room or throughout your home.
This can have a cleansing effect both mentally and physically, clearing negative energy from your mind and your home as well as removing insects and bugs.
Used in meditation, patchouli is grounding and balancing, while frankincense has always been used for spiritual purposes, in religious settings and in rituals.
Together they give a sense of the mystical and are a great aid to meditation.
What Is Frankincense and Patchouli Used For?
Because these two combine so well and complement each other they are often found commercially not just in essential oil form or as incense, but also in many other products.
Frankincense and Patchouli soap is available from many online retailers, and both frankincense and patchouli are known for their healing properties for the skin which makes their use as soap very popular.
Frankincense is an astringent which tightens and tones loose skin preventing signs of aging, protecting and healing skin cells.
In combination with patchouli in a soap they can be a deodorizer, removing unwanted body odours. They can also soothe inflammation and help to heal wounds and scars by stimulating the growth of new skin, and reduce blemishes.
Another popular use is when Frankincense and Patchouli are blended together in scented candles to help you to relax and unwind, and is ideal to use at bath time when the warm bath water and the aromatic fumes from the candle lets you drift away into a relaxing meditative space.
Frankincense and patchouli scented candles usually burn for much longer than incense so they are a good alternative when having guests for an evening, the candles will burn with their fragrance for several hours.
They are also available together as a versatile balm which is used as a perfume, blended with beeswax to bond with the skin.
A blend of frankincense and patchouli is also popular as an essential oil, either for aromatherapy of just for topical use on the skin, not only for its sweet, musky, fragrant perfume but also for its medicinal benefits to the skin.
Do Frankincense and Patchouli Go Together?
Frankincense is a versatile oil that blends well with many others especially patchouli since they both share similar properties regarding benefits to the skin, and they are both stimulating for the mind and nervous system.
They both have earthy, woody fragrances with underlying sweetness and floral notes.
Frankincense is a more musty scent, with spicy undertones and has been compared to the rosemary herb. Patchouli has a cleaner earthiness and brings a hint of sophistication to the mixture.