Disclaimer: As an Amazon Associate, we earn from qualifying purchases.
The 14 Best Zen Fall Incense Burners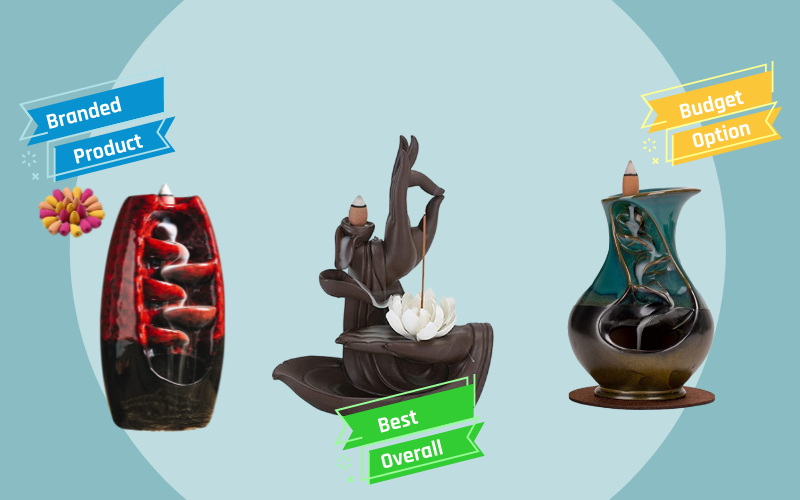 If you're planning to burn incense in a room or an enclosed space, a Zen fall incense burner is a fantastic option to consider.

These burners are not only visually striking pieces of craftsmanship but also serve a functional purpose. They are a great choice to add aesthetics to a room, as well as to give as a thoughtful gift.

Let's take a look at Zen fall incense burners in this blog post and explore how they can assist in creating a peaceful and relaxing atmosphere amidst the busyness of daily life.
A Zen Fall burner is not related to the fall season, but is an interesting and novel style of incense burner.
As the incense burns, the smoke is channeled down through the burner giving the appearance of a waterfall – soothing to watch and ideal as a focus point for meditation, or relaxing during a yoga session.
Quick Picks:
Basic Backflow Waterfall
The Spacekeeper Backflow Waterfall burner uses special 'backflow' incense cones which burn from underneath rather than from the top, hence the name 'backflow'.
Most-Reviewed Product:
This model comes with 120 cones and also 40 incense sticks, and is in a handcrafted ceramic material, shaped like an elongated egg and available in five different colors to match your room's décor theme. 
Each cone burns for around 15 minutes but the fragrance lingers for much longer. It is priced near the lower end of the range of similar items, at around $26.
This burner has a simple yet sophisticated design and is an ideal décor item for any home.
INONE also has a very popular burner with a similar design.
Best Branded Product:
You may also want to take a look at this waterfall incense holder from Via Moi:
Best Budget Option:
Mountain Tower Burner
The Mountain Tower Waterfall burner also uses the backflow system.
The burner is shaped like a stylized mountain peak, as you might see in a classical Chinese landscape painting, and as the incense burns the smoke wends its way down the mountain path.
The burner is handmade from resin with a rough stone pattern. It comes with 120 cones in seven different fragrances, and also with 30 incense sticks, and is priced at around $29.
The interesting stone mountain shape makes it a great conversation piece even when it is not burning incense.
Another interesting mountain spring style burner at a similar price comes with a small LED light, which is placed inside a small crystal ball to add to the overall effect in a darkened room.
The light is powered by small batteries and must be removed before the unit is cleaned.
Lotus Style Burner
This burner immediately creates an aura of peace and tranquility.
Best Overall:
The backflow cone sits next to the hand of Buddha and the smoke drifts down to make a small pool around a lotus blossom. The material is a bronze-look ceramic with a white lotus flower and it comes with 10 pieces of backflow cone incense.
You can imagine how relaxed you would feel just watching the smoke slowly pooling around the lotus, relieving tension and assisting meditation.
Naturally such an elegant item is a little more premium priced at around $33 but the style makes it worth the price, and it comes with a villus pad to protect the surface of table-tops or shelves.
Here's another incense holder in the lotus style that's cheaper:

Fountain Waterfall Incense Holder
The Fountain Waterfall burner is shaped like a large egg with the front cut away to show a landscape inside.
The Most Interesting:
The smoke from the backflow cone slowly drifts down through a mountain waterfall, past a cottage and under a bridge, then forms a stream flowing out of the figure.
It comes with 50 incense cones in eight different natural scents, and also has a small protective mat to place under the base.
It is a complex design, and the sculpture of a hill-top village is finely detailed. The piece is great value at $42.
Spring Ceramic Burner
Best for Continuous Use:
This is a simple design, a small stylized waterfall in gloss black ceramic.
Suitable for a desk top, to calm you at work or on an occasional table in your home, it is hand-made from natural clay by skilled craftsmen, and kiln-fired for permanence.
Priced at around $18 it is a nice little gift for a colleague or to show appreciation for a favor from a neighbor.
Dragon Burner
This burner is in the classical form of a Chinese dragon.
As the backflow cone burns, the smoke flows inside the dragon and out through its mouth, giving the impression of breathing fire, as the smoke runs down some small steps. It is made of enameled ceramic, finely detailed and almost realistic.
It comes with 100 incense cones in five different scents, and a mat for the base.
It also comes with small tweezers to pick out the remains of the cone after burning.
As an exquisite piece it deserves center stage on a coffee table, and will amuse guests as the smoke pours out of the dragon's mouth. It is reasonably priced for such a nice figurine at around $26.
Here is another solid dragon incense holder option:
Most Elegant:
Fish Bowl Burner
This is a very interesting take on the traditional incense burner. The backflow cone sits in a leaf-patterned ledge, on the edge of the bowl, and the smoke comes down in six streams into a pool containing two ceramic goldfish.
The effect is to show the fish swimming in a pool of water with a small waterfall above.
It is quite a small piece with a width of less than six inches and a height of less than four inches, so is suitable for anywhere in the home or at work in the office.
Priced at around $18, it would certainly be an unusual gift for a friend.
A similar item has the cone sitting in a leaf form, with the smoke flowing into a larger leaf pool containing two koi carp and has a similar price point.
Both pieces come complete with mat for the base, cones and incense sticks.
Giulin Scenery Burner
This item takes for its inspiration the Giulin region of China, famous for its scenery of karst mountains and unusual rock formations, along the Li River. 
Most Classically Styled:
The piece features a moss covered hill-top, where the incense cone is placed, and the smoke flows down into a pool where an old man is fishing. Instead of a fishing pole the old man holds an incense stick completing the illusion of fishing.
It is handmade ceramic, with different colors used for the fisherman, the moss and the rocks.
It is a very tranquil scene and you can imagine you are sitting at the edge of the pool, waiting for a fish to bite.
It is priced at around $30 and is a very novel item, with traditional values.
Just a Couple of Housekeeping Notes
Most burners come with a small mat to place under their base, so that the ceramic does not scratch the surface of your table or furnishings.
It is also important to make sure that the incense cone has burned out completely before removing from the piece – the cone burns at very high temperatures and can cause an accident if not handled carefully.
In terms of cleaning, all the burners are either ceramic or resin with no moving parts or electricity, so they can be easily washed with water to remove ash build-up.
Parting Words
With the growing popularity of meditation and other practices aimed at achieving relaxation and inner peace, many individuals are searching for ways to enhance their experiences.
Zen fall incense holders are a great way to enhance your meditation, yoga practice, or any other activity that would benefit from increased focus and tranquility.
They are one of the most popular and well-known incense burners due to their beautiful and soothing appearance.
Backflow waterfall incense burners have a calming effect that can alleviate tension and stress.
Designed to produce a captivating waterfall effect, they provide an ideal way to shift your mind and body towards a state of serenity as you enjoy your incense.
These burners are often adorned with intricate Asian designs, providing an extra layer of visual appeal.
Personally, I find it mesmerizing to watch the smoke gently flow over the waterfall-like edges of these burners and I hope you will find it equally fascinating.