Disclaimer: As an Amazon Associate, we earn from qualifying purchases.
Electric Incense Burner (Best Choices)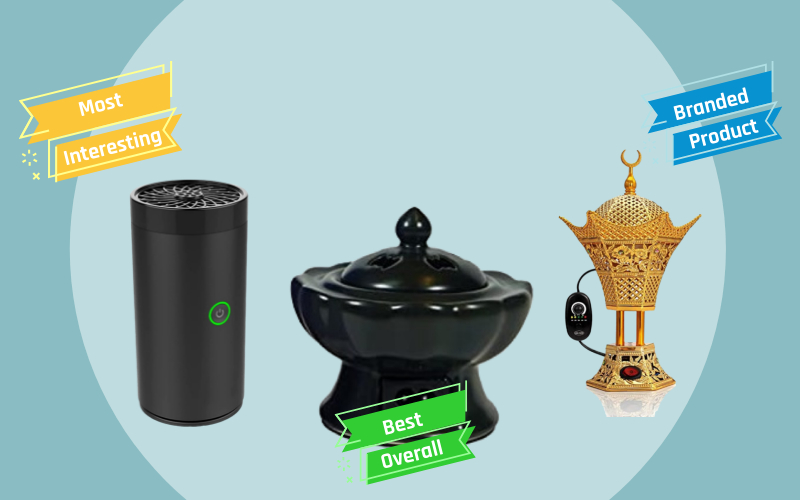 Are you a fan of the pleasant fragrance of incense but not so fond of the mess that goes along with it? Consider using an electric incense burner.

Electric incense holders are a great alternative to using charcoal incense burners, and they provide similar benefits with less hassle. Burning incense is easier and more fun with them.
Electric Incense Burner (Incense Heater or Incense Warmer)
Electric incense burners are also known as electric incense heaters and electric incense warmers, just so that you know that whichever name is used means the same thing. 
Electric incense holders are a great addition to any household and are very easy to get started with.
Now, let's look at some of the best electric incense burners, so you can compare and decide which one suits your needs the best.
Quick Picks:
Arabic Electric Incense Burner
Electric Incense Burner with Regulator (Automatic)
Best Branded Product:
This is an exquisitely decorated gold metal and resin burner. The metal is made in a filigree construction, with a rounded top, and topped off with a crescent moon symbol.
It is quite tall and I think it looks majestic at 11 inches in height. Certainly an eye-catcher in your home. It is most suitable for Oud or frankincense resin, and has a timer and temperature control.
Mabkhara Electric Burner
Attar Mist Electric Incense Burner
Most Elegant:
I think this is a beautiful item, in silver metal, inset with colorful crystalline stones. It is finely decorated and has a classic goblet shape with almost a regal appearance, like one of the Crown Jewels.
Without a thermostat, it burns at a relatively high temperature so is more suited to aromatic woods, or incense powders, and probably not suitable for resins.
Electric Incense Burner for Car
Small portable burners such as these two are definitely something I will use in my car.
They plug into the cigarette lighter socket and are both very small. They are ideal for a small amount of incense or small aromatic woodchips, to purify the air in your car after a long journey, or to refresh you before you travel to work.
Just remember to switch it off before moving the car, in case of spillage.
Electric Bakhoor Burner for Car
It can be comforting to have the fragrance of incense with you on a car journey, or perhaps you want to mask the odour of pets, food or other scents in your car.
These two burners are ideal for that. In the shape of miniature Bakhoor burners, they plug into the electrical outlet previously used for a cigarette lighter, in your car dashboard.
It is recommended that they are not used when the car is moving, to avoid accidents from spilling the hot incense.
Electric Bakhoor Burner (Electric Oud Burner)
The hexagon-shaped Oud burner is in a solid gold-metal design, embossed with curlicue patterns and ruby-like stones.
It does not have a timer or thermostat and is more suitable for coils and aromatic woods.
Portable Electric Bakhoor Burner (Rechargeable)
Dukhoon Electric Portable Incense Burner
This unique little hand-held burner has a rechargeable battery, through a USB port. It comes in black and also in gold colour, and can be used anywhere.
It also has a comb attachment. When the incense smoke is drifting through the top, you can comb your hair with it, and carry the fragrance of Oud or frankinsense with you all day, or all evening, delighting your companions.
Rechargeable Bakhoor Burner
In keeping with the modern era, the mini-hand held burner has an inbuilt battery that can be recharged through a USB port. It is made from black ABS, which is stronger and more durable than PVC.
There is no heat conductivity through the handle, so it can be carried while incense is burned in the top part.
It would not be my ideal choice in terms of quality but I am impressed with this as a potential gift, since it comes with a well designed black and gold velvet carry bag, which holds the charging cable and other accessories.
Rechargeable Incense Burner (USB Incense Burner)
Mini Electric Incense Burner
The Most Interesting:
An excellent choice for aromatherapy, this small cylindrical burner will sit on your desk or coffee table.
In black or a deep red metal, this small but powerful burner can cover rooms up to 1,000 square feet depending on the airflow and location and is battery-driven, which makes it ideal for impromptu parties or meetings. It could also sit in the cup-holder in your car.
The battery is rechargeable through a USB connection.
Electric Incense Burner 110v
Best Overall:
This lotus-shaped burner comes in either black or white ceramic. It has a pedestal base with a heatproof mat fixed under it to avoid furniture damage.
It looks great in any room with its sleek black design.
The burner has a thermostat to control the heat so can be used for any incense including resins and essential oils.
We all know how important it is to get the perfect temperature when we're trying to burn incense. And with this electric incense burner, you can adjust the temperature from 80-220 C to make sure that your incense always burns perfectly.
Plug in Incense Burner
This electric incense burner is a delight in deep navy blue with gold trim. It sits on a black coaster made from bamboo wood.
It is in a small pot shape with a decorated lid, and can be used for either incense powder, resin or essential oils. It has a thermostat control and a timer for convenience.
Portable Electric Incense Burner
These pretty little burners come in gold, copper, bronze and silver metals and each one has a different design.
They do not have a cable, they have a two-pin plug and can connect straight to a wall socket.
They can be inconspicuous in a corner of the room, but can fill the room with fragrant incense.
Electric Incense Heater with Temperature Control
Most Minimal & Elegant:
The white ceramic burner, shaped like an ornamental pot, also comes with a floral design around the bowl.
It is designed mainly for aromatic wood chips or incense powder. It has a small metal tray inside to hold the incense, but a good suggestion is to use aluminum baking cups (not supplied) which can be discarded after use, for easier cleaning.
Electric Incense Burner 220v
This burner is in a grey metal similar to pewter. Although not as bright and polished as some others, it has a classical elegance, and is shaped in the traditional Bakhoor style.
It does not have a thermostat and burns at a high temperature, so is more suitable for woods or powders, and not for resin.
It is solidly constructed i a hexagonal shape and is a good functional burner.
Wooden Electric Incense Burner
This is a very simple wooden burner, shaped like a small cup. It does not have a lid, just a metal incense holder at the top.
It plugs directly into a wall socket with any wires. Simply plug it in and add a pinch of incense powder, and after about 10 minutes the room will fill with fragrant smoke.
Vintage Electric Incense Burner
Best Budget Option:
Embossed with studs and with palm tree designs, this simple Bakhoor style burner is made in a gold metal and strongly constructed.
It does not have a thermostat control so burns at a high temperature, making it suitable for woods and powders, but not for resins like frankincense'
Its traditional shape reminds me of the burners that can be seen in most middle eastern households and have been used for centuries, but with the added advantage of electricity.
Classically Styled:
Like a beautiful lamp, this antique looking burner has a golden candle-stick style base, supporting a black metal bowl shape which is inset with a gold floral design.
It is quite an unusual item, different from many other incense burners, and I would love to have this in my home or give as a gift to a relative or friend for a special celebration.
Most suitable for aromatherapy, the bowl is filled with water, and a few drops of essential oils are added. As the water warms up, the beautiful fragrance spreads, relaxing and calming.
Just like a jewelry box, this highly ornate item is crafted in silver and inset with coloured glass stones to imitate precious jewels. It has a timer and temperature control.
It is made in a silver metal and has a small drawer in the base to store small amounts of incense.
I know many people would love to receive this as a gift, either for incense burning or simply as an attractive object to decorate their home.
Attar Mist Electric Incense Burner
Above we have already discussed a few Attar Mist incense burners. Below is another Attar Mist incense burner that is made from copper and designed in a traditional Arab style.
Golden Lotus Electric Incense Burner
The black ceramic Golden Lotus is so named because it is finely decorated with lotus images in gold around the small bowl.
In a small pot shape, this well-decorated burner will make a perfect gift and comes with incense samples, brass implements for portioning and for cleaning, and in a satin-lined gift box.
Loban Electric Burner
This is the most simple and functional electric incense burner. Made in stainless steel, this small, unadorned cup shape plugs directly into a wall socket.
There is no thermostat or on/off switch, just a small light in the base to let you know it is heating.
There is nothing decorative about it, but if you just want to release incense into the air, this will do it perfectly.
Ceramic Electric Incense Burner
This ceramic incense burner is in a very pale blue color, but it also comes in brown and green. I prefer the blue, with the polished bronze lid. The lid is cut with an abstract flower design to allow the smoke to drift up.
The body of the burner is slightly ribbed to provide texture, and the electric cord is insulated for safety.
It has a thermostat for temperature control, and also a timer so it cannot be accidentally left on after use.
A similar burner, ice blue, in a bowl shape. It has an abstract design molded on the bowl which I think represents a fish, and is also available in a cracked glaze style ceramic. It has a metal holder inside, so no incense touches the ceramic finish.
The ceramic body can get quite hot, and it comes with a natural wood plinth to protect furnishings.
Electric Porcelain Incense Burner
Electric Incense Burner with Timer
The aqua-blue porcelain electric burner has an antique, weathered stone finish. The lid is perforated with round holes to release the smoke, and it sits on a dark stained wood plinth.
It has a wide-range thermostat, controlling temperature between 80 and 240 degrees celsius. The sealed unit burner heats up in seconds, and the timer can be set for up to 8 hours.
It also comes in a black stone style porcelain, which I like because of the texture, and it looks like it might have come from an old Chinese home.
Electric Incense Powder Burner
Most Minimal:
Shaped almost like a pumpkin, this electric ceramic burner is in a pink glaze, and the top has perforations in the shape of seeds.
The thermostat ranges from 50 to 330 degrees celsius, and the low temperature allows essential oils to be used for aromatherapy. The temperature can be quickly increased to burn incense in powder, coil or resin form.
It has a round wood plinth, the circular shape complementing the bowl of the burner.
Frankincense Burner (Electric)
Made from copper and resin, and inset with red stones reminiscent of rubies, this electric burner for frankincense has a strong Arabic influence. It has a metal cup inside to hold the incense, and it is removable for easy cleaning.
This middle eastern style burner can be used as a censer in religious ceremonies, and I would use it for meditation and for home decor.
Japanese Electric Incense Burner
The Japanese-made incense burner is in the shape of a classic Arabic Bakhoor burner. It is made in a cream color ceramic with gold trim, and has a molded motif inset, picturing a mosque and palm trees.
The metal tray in the top can hold coils, powders or aromatic woods, and is removable for cleaning. I would give this as an engagement or wedding gift; the design and color suits special occasions.
A second Japanese incense burner is battery-operated, making it easy for traveling. At 4 inches high, I can see it being easily carried in a pocket or in the glove compartment of a car, but of course not when it is hot from use.
It is ideal for burning small wood chips and comes with a starter pack of sandalwood.
Orthodox Electric Incense Burner
It is rare to find an orthodox electric incense burner. Nevertheless, the following electric incense burner can be used in an orthodox setting or church:
Lotus Black Incense Burner (*Amazon)
As an organic alternative, this brass censer burns charcoal tablets, and is made in a finely etched brass design, and is engraved with Christian symbols.
It is shaped like a goblet or chalice, and the religious aspect is compounded by a cross on top of the lid, in a Greek or Russian orthodox style.
Electric Incense Burner vs Charcoal
Incense burners have been around for many centuries since incense was first used in homes and religious ceremonies.
A charcoal tablet has been traditionally used inside the burner for powdered incense or, for resins and for aromatic woods.
In recent years however, electric burners have become popular for their convenience.
Charcoal tablets can take some time to ignite and smolder and must reach the right temperature before the incense is added.
Electric burners are at the desired temperature within seconds of being switched on. Not only that, the charcoal tablet has only one temperature – very hot! whereas an electric burner allows for temperature control to different levels.
An electric burner is preferred by some because only the incense is burned, and with a charcoal burner there is also smoke and odor from the charcoal tablet. Of course, traditionalists are used to that and feel that there is something missing from the smoke of an electric burner.
A charcoal burner can be used anywhere, outside the home, on a beach at sunset, places where there is no access to electricity.
Also, when the charcoal is burnt out, the burner process is finished. Electric burners have to be either switched off manually, or you have to set the timer so it does not continue to heat.
As with anything, it is a matter of personal taste, and for many, the lighting of a charcoal tablet is part of a ritual reaching back into history.
Parting Words
Burning incense is an easy and inexpensive way to have your home or office smell great. It is also useful for masking odors. 
As the popularity of incense grows, the amount of burners on the market has grown as well. 
With an electric incense burner, your incense will last longer because they allow you to preserve incense longer. 
Electric incense holders can be used on a daily basis and can help improve the atmosphere of your home and office as they do not require fire or charcoal, they are easy to use and safe.