Disclaimer: As an Amazon Associate, we earn from qualifying purchases.
9 Best Incense Gift Sets (Plus 2 You Should Avoid)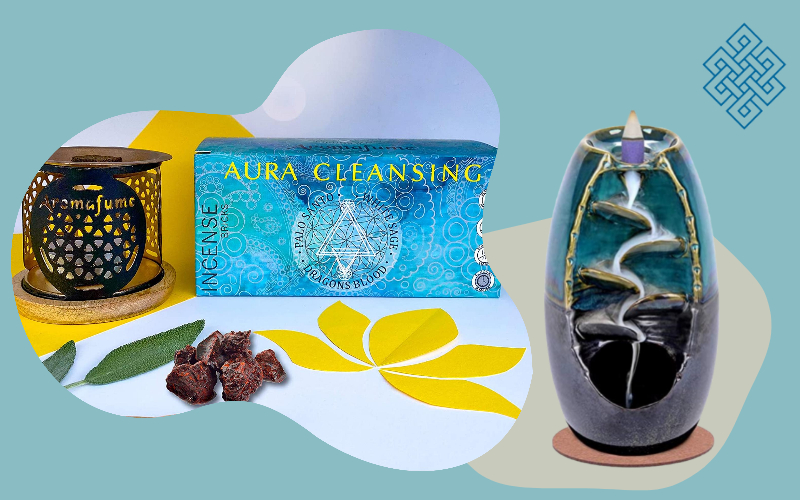 Deciding on the right incense gift set can be overwhelming due to the abundance of options available.

This article will guide you through the various types of incense gift sets available in the market, and assist you in identifying the key factors to consider when making your purchase.

It includes a few recommendations that should satisfy even the most discerning recipients on your gift list.
Incense comes in many shapes, sizes, scents and packs – the challenge is determining which one to select.
Browse the selection below to find the perfect gift for your loved one.
And of course, remember to stay away from those with a poor reputation/ratings (you'll find a list of them at the end of this article).
The 9 Best Incense Gift Sets
Quick Picks:
It's my firm belief that the following incense gift sets will impress anyone regardless of their religion (Christianity, Buddhism, Hinduism, Islam):
01.

Chakras Incense Sticks All-Natural Gift Set

Best Overall:

Chakras Incense are made with all-natural sustainably harvested bamboo sticks, natural essential oils, and chemical free fragrances. They're designed to offer natural, long-lasting, and strong smelling incense.

These incense sticks, while aromatic, do not overpower an environment with a heavy scent and are individually wrapped for maximum scent preservation and burn time.

This premium incense is hand dipped in fragrant herbal oils which are intended to stimulate 'energy centers' within you.

Not only do they smell divine – but are said to help deepen your breathing patterns while promoting physical, emotional, intellectual and spiritual well-being.

Feel the calming and comforting aromas as they fill your space and relax your mind and body. What's better than calming your mind and using your body's natural energy flow to access your self-healing power?

However, a disadvantage of the item indicated is that the scents aren't one size fits all. You may or may not like certain ones.

Chakra incense aroma is a perfect gift idea for someone in your life who meditates, does yoga, is a reiki healer, or is just looking for a natural alternative to the synthetic scents that pollute the earth.

This gift set includes both an incense burner and a chakra bracelet.
02.

SPACEKEEPER Incense Holder, Incense Cones & Sticks

Most-Reviewed Product:

This backflow incense burner helps to purify the air, meditate and relax and improve sleep quality. You will get a flowing waterfall of pleasant fragrant smoke.

The incense holder is hand-crafted and can be used for backflow incense cones and incense sticks.

It's a cool way to decorate a room and has a soothing fragrance. Place it in a place where it will spin around and enjoy the relaxing aroma.

The incense cones are burned on top of the incense burner, then come out through the holes of the ceramic incense holder.

The fountain-like design of the feature of these burners allows for the scent to circulate to create the best aromatherapy experience possible.

Overall, this cute little home decor will lend a mysterious and spiritual air to any room.

Each package contains seven different scents (jasmine, lavender, rose, green tea, apple, sandalwood, and osmanthus) that are packaged as 120 backflow incense cones and 30 incense sticks.

This incense holder is handmade, high quality, simple and fashion design. Built with ceramic, it feels silky smooth to the touch.

This would be a thoughtful gift to give to friends, family, and loved ones, also a perfect decoration for your house.
03.

Aromafume Aura Cleansing Incense Brick Starter KIT & Gift Set

Best Branded Product:

Aromafume aura cleansing incense bricks are ideal for healing, purification, manifesting, relaxation, meditation, protection or any other metaphysical use.

Aromafume has an extensive array of products for natural home and personal fragrance. Aromafume products are mostly natural and contain no chemicals or artificial fragrances.

They keep your space smelling gorgeous and clear, remove unwanted odours, replenish the environment, promote inspiration, and cleanse a space of negative energy.

These incense bricks will last longer and emit a stronger and fuller fragrance than common incense sticks and cones.
Natural fragrances also purify the air better than scented candles.
By having fragrances that are soothing and pleasant, it helps soothe the mind and body, helping you feel relaxed.
04.

Dukhni Oud Bakhoor Incense Variety Box

The Most Interesting:

Dukhni Oud Bakhoor is rich with the aromas of sweet and spicy exotic herbs and plants.

Bakhoor is an Arabic word which means 'fumes'. Arabian bakhoor is traditionally made by compressing natural ingredients.

From their beginning as a family business, Dukhni Bakhoor has been a pioneer of the oud bakhoor industry.

Each piece of bakhoor is standalone and will fill your surroundings with a beautiful and natural fragrance.

The variety box contains 20 separate pieces of 10 different fragrances which you can use to scent different areas of your home.
The collection also comes with a rainbow bakhoor burner and a candle so you can easily light your first piece and get started right away.
No authentic bakhoor tradition can be complete without a Rainbow exotic bakhoor burner & a tealight candle to complete the experience.
05.

Karma Scents Premium Incense Sticks

Karma Scents premium incense is a high quality incense from India, which is made from all natural ingredients, including essential oils, herbs, woods gums and other natural essences.

It is hand blended and rolled in the traditional way according to ancient recipes, and it is very popular in India due to its fragrance and affordable price.

Each individual scent of the incense sticks is contained in its own gift box.

The aroma of each stick is fresh and delightful and will fill your house and the smell will linger for a long time.

These beautiful scents are used for yoga, meditation, aromatherapy, healing and many other purposes.
06.

Chakra Aromatherapy Natural Fragrance Scented Sticks

Best for Continuous Use:

Chakra Aromatherapy Natural Fragrance Scented Sticks are health promoting incense sticks packed in 20 sticks per box, 120 sticks per outer box (6 inner boxes).

An incense with natural fragrance, which is extracted from the nature's basket of India.

The magic of the white rain forests of Kumaon to the piquant red brick kilns of Rajasthan, the aroma of the tiny flowers of the hills to the pungent smell of dry forests to the steamy rice fields, the incense sticks are hand rolled to give them their distinct fragrance.

They help you to give a welcoming and calming environment, while also naturally purifying the air of your house.
07.

Utopia Scents Premium Quality Incense Sticks

Utopia incense sticks are made up of all natural ingredients and are completely safe to use. Each stick has a unique aroma which will leave you feeling energized and well-being.

It is an odor eliminator and will help you to feel fresh, to maintain a clean and hygienic environment.

Utopia scents are premium quality incense sticks available in variety. In this incense kit, there are 75 sticks (5 varieties) and a free holder/incense burner.

It contains a variety of aromatherapy scents including lavender, sandalwood, jasmine, vanilla and rose. Each of these aromas is perfect to create the mood you need at the time.

The premium quality hand-blended natural incense sticks are rolled by hand and infused with 100% pure essential oils and extracts and will reach and engulf every corner of your house with its soothing fragrance.

Long-lasting incense sticks provide pleasant aroma for your home, offices, restaurants, weddings, etc.
08.

Hand-Dipped Incense & Burner Gift Set

Hand-dipped incense is known for its quality and high fragrance.

With 12 specially chosen scents, you'll have everything you need to enjoy long-lasting aromatic incense. From Patchouli to Balsam Fir to Frankincense, each stick burns for up to an hour and will keep your space smelling wonderful.

There's a total of 120 hand-dipped incense sticks. You won't have to worry about running out of incense for a while. Also, the incense burner is a nice addition. They don't take a ton of space and won't clutter up your room.

Hand-crafted in the USA, each incense stick is made of quality ground herb, essential oils, and other natural ingredients.

They are free of any harmful chemicals or fake scents, and come in a festive, decorative box to make an excellent gift.
09.

Satya – Set of 6

Best Budget Option:

Satya is a high-quality incense with a slow, lingering fragrance. It is both calming and uplifting and it has no negative side effects.

Satya Incense comes in a variety of exquisite fragrances, which are sure to delight any incense lover. Each incense stick is handcrafted and produced in India with the best natural ingredients.

These 15 gram packs are Satya's premium incense line, with 6 different types of incense in each pack.

The set contains: Sandalwood, Sunrise, Patchouli, Midnight, Celestial and Nagchampa. Ingredients are 100% natural and pure and do not contain any chemical additives.
2 You Should Avoid
Based on my own experience as well as what I have learned from researching online, the incense products made in Tibet, Japan, India or Nepal are of the highest quality.
However, that doesn't mean incense products produced in other countries are inherently bad.
Habituality also plays a role. Incense is typically purchased based on the fragrance we are accustomed to.
So, we may find ourselves unpleased by different types of fragrances sometimes.
The incense gift sets listed above are perfect for any occasion. From birthday gifts to Christmas presents, they have something to suit everyone on your list.
Parting Words
Perfumes and incense are both pleasant aromas that can make your house feel like a home. That is why many people choose to burn incense at various points in the day, or light up a candle for their loved ones.
Incense gift sets are perfect for any occasion and will help you create an atmosphere that is relaxing, soothing, or exciting.
All of the scents I recommended above are known to help people feel relaxed and calm while also improving their sleep.
It's always a good idea to have some incense handy when you're relaxing in your favorite place, or even when you're feeling stressed out.
All it takes is a little bit of flame and beautiful smells can fill up any room. There's nothing quite like it!
Meditation is a practice that has been around for thousands of years. It's benefits are well documented and include improved mood, reduced blood pressure, and increased focus.
One way to get started on your journey to meditation is by using incense in your home as an aid while you meditate.